As mentioned on the homepage, Smooth Web Move was created as a service for small businesses. It is an extremely unique company specializing in moving websites to save small companies money in a time where saving money could make or break a company.
Smooth Web Move is located in the state of Washington though the Internet knows no geographical boundaries. It is our goal to help save our customers money and develop a reputation in the industry as an advocate for trustworthy cost-effective services. Through our web designer certifications and our web host ratings we hope to promote conflict-free businesses.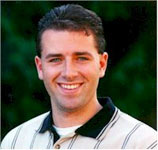 Dustin Woodard
CEO Smooth Web Move
Smooth Web Move Officers:
Chief Executive Officer
Dustin Woodard
Dustin has won numerous awards for his talents as a Webmaster and Internet Strategist. His work has been named "Best of the Web" by Forbes magazine the past three years, he was awarded 1st place in Inc. Magazines Annual Web Awards and is a winner of the official Webmaster Award. He is a member of the highly exclusive International Academy of Digital Arts and Sciences (IADAS) which includes members like Real Network's CEO Rob Glaser and Oracle's Chairman Larry Ellision. Dustin is a judge for this year's Webby Awards, (the Oscars of the Internet). His educational background includes two BAs from the University of Washington (Economics and Business Administration) and is a member of the International Honor Society in Economics.
Chief Financial Officer
Marcus Dorschel, CPA
Marcus has spent a lot of time working with small businesses, banks and government agencies. He even spent time overseas counseling small businesses in Tonga during his Peace Corps commitment. Marcus also attended the University of Washington and received an accounting degree from the UW Business School.